Phil Wickham Announces 2023 Singalong Tour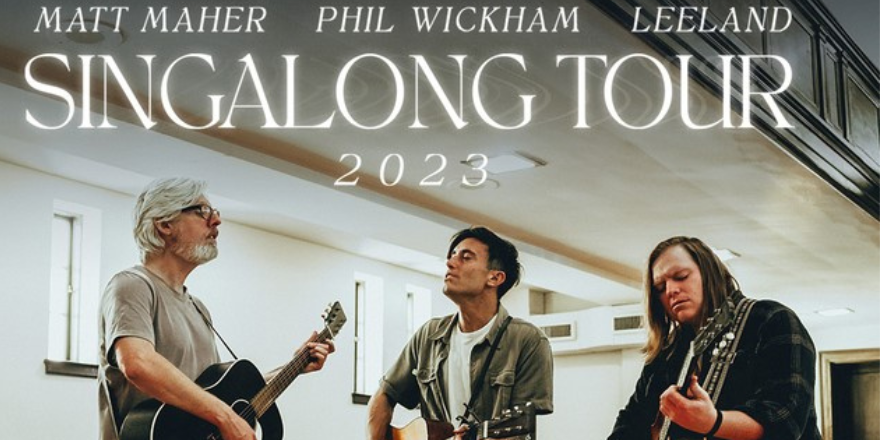 Worship leader Phil Wickham has rolled out the itinerary for the nationwide 2023 Singalong Tour, featuring special guests Matt Maher and Leeland Mooring. This will be the fourth year that Wickham takes the Singalong Tour out on the road, and this year represents the largest Singalong tour yet with more dates spanning coast-to-coast.
"I am so excited to announce that Matt Maher and Leeland Mooring will be joining me next year on the 2023 Singalong Tour," shares Phil Wickham. " It has been 13 years since we did a tour together, and it will be amazing to get back on the road with these incredible worship leaders and friends!"
The format of this tour gives each artist the opportunity to perform on stage for both solo and collaborative performances throughout the evening.
Wickham continues, "The idea behind these nights is to simplify and get back to the root of what we're doing - a family gathering simply to celebrate and share the name of Jesus. It's about all of us being together."
"It's been thirteen years since the first time Phil Wickham and I have played live music together, and between then and now, I've appreciated his friendship and ongoing commitment to the church," states Matt Maher. "I'm honored to be a part of Singalong next spring. Phil and Leeland are incredibly gifted and I'm honored to be gathering people together to sing and pray in these cities!"
The Singalong 2023 tour begins right after the New Year, and comes off the heels of Wickham's 2022 nationwide Hymn of Heaven tour, which saw 28 (of 32) sold-out dates across the country.
2023 Singalong Tour Dates (subject to change)
Saturday, 1/21/2023: Temple Church – New Bern, NC
Sunday, 1/22/2023: Relentless Church – Greenville, SC
Friday, 2/3/2023: Southeast Christian Church – Louisville, KY
Saturday, 2/4/2023: Reardon Auditorium - Anderson University – Anderson, IN
Sunday, 2/5/2023: Church on the Rock – St. Louis, MO
Friday, 3/3/2023: Crossroads Church Oakley – Cincinnati, OH
Saturday, 3/4/2023: Elmbrook Church – Milwaukee (Brookfield), WI
Sunday, 3/5/2023: Central Wesleyan Church – Holland, MI
Thursday, 3/23/2023: Cornerstone Chapel – Leesburg, VA
Friday, 3/24/2023: Cornerstone Chapel – Leesburg, VA – SOLD OUT
Saturday, 3/25/2023: Liberation Church – Richmond, VA
Sunday, 3/26/2023: Fountain of Life Center – Burlington, NJ
Friday, 4/14/2023: First Christian Church – Canton, OH
Saturday, 4/15/2023: Eastern Hills Church – Buffalo (Williamsville), NY
Sunday, 4/16/2023: LCBC Church – Manheim Campus, Manheim, PA
Friday, 5/5/2023: Rocky Mountain Calvary – Colorado Springs, CO
Saturday, 5/6/2023: Calvary Albuquerque – Albuquerque, NM
Sunday, 5/7/2023: Green Acres Baptist – Tyler, TX
Friday, 5/19/2023: Visalia First – Visalia, CA
Saturday, 5/20/2023: Redemption West – San Jose, CA
Sunday, 5/21/2023: TO BE ANNOUNCED