Music Review: Shane & Shane's "Glory in the Highest"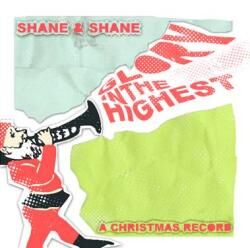 By Matt Conner, ccmmagazine.com
After 10 years and numerous studio albums, the InPop duo of Shane Barnard and Shane Everett reveal their first-ever Christmas themed project entitled Glory in the Highest.
Kicking things off is a trippy, up-tempo spin of "O Holy Night" that includes the acoustic and vocal theatrics that only Shane & Shane could pull off. It's a signature sound that has won them numerous fans thus far (almost half a million career sales and counting) and provides a fresh take on holiday classics.
And that's mostly what you'll find on Glory in the Highest. "Away in a Manger," "O Come, O Come Emmanuel," "It's Beginning to Look a Lot Like Christmas," "White Christmas," "Silent Night" and "O Come Let Us Adore Him" are all present and accounted for.
Some familiar tracks are refreshed better than others. The attempts to lighten "Away in a Manger" are lost, but the fault might not lie in Shane's (and Shane's) hands, seeing as how the song is so familiar that any attempt to shift things around simply sounds off. "O Come Let Us Adore Him" is fairly straightforward, but the soaring harmonies are perfect for the album closer.
It's the new tunes that stand out as the highlights. The instrumentation is richer on these tracks, and they are fully Shane & Shaneâ "and that makes a huge difference. "Glory in the Highest" is a moving ballad that crescendos to great heights. "Born to Die" is a country-tinged, mid-tempo tune that broods in some places but is a fine track nonetheless.
For some, the overload on the overdone songs will be a nuisance, but Shane & Shane accommodate well with their special ingredients, spicing up the compilation for a fine acoustic blend.
---
Used with permission,