Music Review: Melissa Greene's "Next Step"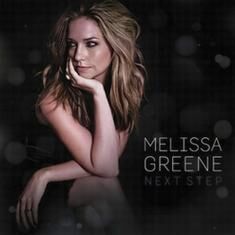 By Matthew Watson, Jesusfreakhideout.com
After nearly six years with Avalon, Melissa Greene is now ready to release her first solo project. Next Step was inspired mostly by personal experiences, which gives listeners a peek right into the heart of Mrs. Greene.
The album starts out with a bang with the jazzy styled title track, reminiscent of Beyonce's hit "Crazy In Love." In fact, the horn melody in the chorus sounds almost identical to the popular song. "Imagine" and "Too Far" seem to follow suit in sound, although they are much more pop-based. The album's first single, "Wonder," has an all-too radio-friendly sound, with a catchy AC style. Later on, "You Satisfy" is probably the biggest curveball thrown on the album, with a drum looped R&B groove, reminiscent of something Stacie Orrico might have done.
Where the album falls short is that of the ten tracks, five are ballads. This can make the album get boring after a few listens, especially since the album's last three tracks are all slow. However, the ballads presented here are a mixed bag, with some powerful ones, like the inspirational "Long Road To Forgiveness" and "Army." "To Trust You" has a strong inspiration behind it (her brother-in-law, who passed of cancer in late 2007), but its sound is so monotonous that it falls flat. "At Your Feet" is a more worshipful track, but again is unsuccessful due to its tedious melody. Melissa attempts to cover one of my personal favorite worship songs, "Revelation Song," but it has an unappealing, sparse arrangement, and never builds into the powerful song that it should be.
The best part of the album is Melissa's strong, powerful vocals. Her voice seems tailor-made for singing inspirational pop music. It also has a bit of a Carrie Underwood-esque country flare, especially evident in the ballads.
In conclusion, Melissa has a good thing going for her, with passionate vocals and several strong hooks. But Next Step suffers a bit from playing it too safe, including some unimpressive ballads. Not to mention, any one of these songs could have easily been done by Avalon. Although I can see where she's coming from, maybe Greene should just stick to what she does best…being a member of Avalon.
---
Used with permission --