Music Review: Joy Williams' "One of Those Days" EP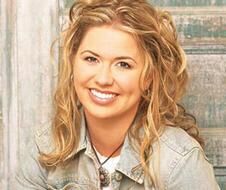 By Lauren Summerford, www.Jesusfreakhideout.com
Several years ago, recording artist Joy Williams could have easily been deemed as Christian music's rising sweetheart just before she took a hiatus from the performance side of the industry shortly after the release of her last studio project, Genesis. With three well-received albums behind her, Joy set aside the life of a performer to spend some quality time refining her songwriting skills.
Perhaps Joy's time spent focusing solely on songwriting has pushed her to reinvent her musical style. When this gifted artist was still signed to Reunion, she progressed artistically with each album. However, her One of These Days EP is light years ahead of even the finest of her previous work.
Opening tune "One of Those Days" is upbeat, catchy, and smart. This title track is rounded out perfectly with a lively piano and a cheerful vocal. She continues by singing of her "Charmed Life" in the soft, sweet pop song. Joy shares a sense of innocence and wonder with the love song "What Can I Do (But Love You)" which bears a similar vibe to "Charmed Life." "I'm Gonna Break Your Heart" is a somehow charming yet blunt confessional proclaiming, "Just so you know I'm going to break your heart/Just so you know I'm going to make a mess/ I've got things unsaid inside my head/ I wish you knew but I can't confess/I'm going to break your heart."
Those who pre-ordered One of Those Days were treated to three bonus tracks which featured live versions of "Charmed Life" and "What Can I Do (But Love You)" and an alternate version of "I'm Going to Break Your Heart." With her new style which sounds more like a matured singer-songwriter with a guitar in hand as opposed to a pop princess, any additional music we can get from Joy is warmly welcomed.
With only four songs (plus three bonus tracks if you pre-ordered the disk), there's not a great deal of material here, but it's enough of a taste to leave the listener thirsting for more. Maybe this four song treat will open the doors to hear more from Joy Williams soon.
---
Used with permission --