Music Review: Fernando Ortega's "Christmas Songs"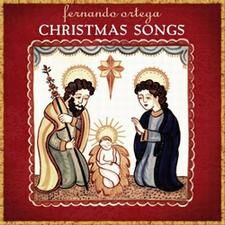 By Andrew Greer, christianmusicplanet.com
Before his major label debut in 1997, Fernando Ortega recorded a variety of albums independently, utilizing mainly acoustic instruments and understated arrangements to capture the simple beauty of hymns and other traditional songs. And in many regards Ortega jumpstarted, and contributed immensely to, the hymnody renaissance with his authentic brand of folk recordings.
Now over a decade later, with several best-selling major label releases, a trio of Dove Awards and an established name in Contemporary Christian music, Ortega pays homage to those first recordings with Christmas Songs, a stripped down ode to the birth of Christ.
As is to be expected, Ortega sticks to songs with spiritual significance, mainly traditional hymns to render his impression of the Christmas season. And as is also expected, he does so quite eloquently.
From the record's expectant opener, "Come, Thou Long Expected Jesus" to the poignant (and previously popular original) closing track "Jesus, King of Angels" Fernando honors the Christmas story with familiar melodies and understandable arrangements. "Joy to the World" benefits from the swell of an accordion. "Bring a Torch, Jeanette Isabella" gives off an Irish flair with its Celtic fiddle; and a melancholic cello deepens "What Child is This?"
My only complaint of an otherwise exquisite album is a compliment as well. Though Ortega has a magnificent touch on the ivories (proof of his classical training), his intimate vocals are so quietly alluring they are genuinely missed on the instrumental tracks interspersed throughout the CD.
With or without vocals, Christmas Songs collects some of the greatest Christmas hymns minus the typical holiday hype, and the result is quite stirring. In Ortega's own non-pretentious way, he has created yet another masterpiece.
Order Fernando Ortega's "Christmas Songs" right from our E-STORE.
---
Used with permission --