Music Review: Amy Grant's "The Christmas Collection"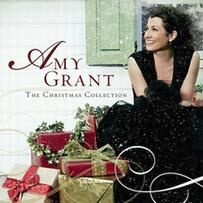 By Logan Leasure, jesusfreakhideout.com
Amy Grant is a legend. With countless studio albums and unending success, she's still going strong. The story of her career goes way back to 1977, the year of her first album release, and now, after three previous holiday releases, Amy presents us with an all-in-one ordeal, which may prove to be a smart move in the long run despite a few glitches here and there.
Four new recordings are featured on The Christmas Collection, including spastic opening track "Jingle Bells." To be honest, it's one of those love it or hate it renditions. The constant change of pace in the song quickly gets old and really doesn't fit well with Amy's overall style. However, her well-known and highly acclaimed version of "It's the Most Wonderful Time of the Year" follows right after to get the album back on track. In fact, The Christmas Collection saves you all the CD changing, because every well-known Amy Grant Christmas hit is present here, including the all-time favorite "Grown Up Christmas List," a song that helped Amy bolster her connection to the listener. Although not her original, Amy made the song a hit and paved the way for many other recording artists to do the same.
The lack and limit of only four new recordings is the primary drawback here. While "I Need a Silent Night" and "Count Your Blessings," both new tracks, are well done and contain good messages lyrically, neither really fit the sound that most people generally associate with Christmas music and might make you wonder if they really belong here or not. Opinions will differ on this, though. It all depends on your personal view of true Christmas music.
All that said, The Christmas Collection's name really says it all. The big hits are here, but the new tracks are unfortunately a letdown. If you haven't managed to get a hold of any Amy Grant holiday albums from the past, this one's for you and should suffice, but if you own any of them already, holiday cheer is the only really exciting thing here.
---
Used with permission,