Music Review: Michael W. Smith's 'A New Hallelujah'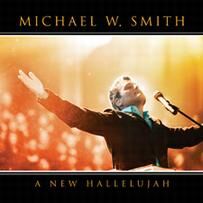 By Matt Johnson, jesusfreakhideout.com
1983 was a time not too unlike today. Then, Nintendo was releasing their first, and wildly successful gaming console. Now their also wildly successful Wii console is the hot item. Then, the Philadelphia Phillies were playing in the World Series. Now, the Phillies are once again competing for the MLB crown. Then, Michael W. Smith was releasing his first album, The Michael W. Smith Project. Now, good ol' Smitty shares his twenty-first release, A New Hallelujah.
One thing is pretty apparent: Michael W. Smith understands that worship music is always better live. His previous two worship albums (aptly titled Worship and Worship Again) were both live recordings and this one doesn't stray from that successful pattern. Little compares to being in an excited, fervent worship service, but the next best thing is an effective recording of one. This one does not disappoint. I couldn't help but find myself worshiping while listening. You'll want to listen straight through to get the whole experience.
There seems to be an intentional effort to make this release more ethnic by featuring a few special guests (Coalo Zamorano, the African Children's Choir, and fellow worship leader Israel Houghton). For the most part, these guest appearances are effective. The pairing of Smith and Israel on "Help Is On The Way" is nothing short of memorable with their contrasting vocal stylings. The African Children's choir is also featured on two songs. Their role on the title track, "A New Hallelujah," comes off feeling just a bit forced, but the very next song, "When I Think Of You," features them in a much more natural way. That song seems obviously made for them and it works. Latin artist Coalo Zamorano provides some Spanish verses to an arrangement of "I Surrender All" that is just a really nice addition.
The record hits it high point with "Mighty to Save," "Shout Unto God," "Amazing Grace (My Chains Are Gone)," and "Deep In Love With You." This is just a perfect example of a good worship set. Lyrically, all four songs connect well to each other to provide continuity. Even more so, the transitions from each song to one another aren't just mere filler, but rather are worshipful experiences that feel natural and pull the listener in.
Overall, this is a yet another strong worship release from the seasoned veteran. Even though it doesn't break any new ground, it represents many of the things that are right with today's popular worship music. Those trying to break into the overpopulated worship genre by bringing the typical fare should use this as a "How To" guide in doing it right. A New Hallelujah is sure to sell because of the name on the front, but this one is actually worth it.
---
Used with permission --