Music Review: "Casting Christmas" Fails to Meet Expectations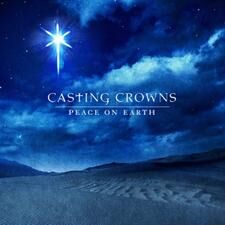 By Andrew Greer, ccmmagazine.com
After last year's The Altar and the Door debuted at No. 2 on the Billboard Top 200, going down in the books as the highest debut week for a Christian music artist in chart history, Casting Crowns effectively secured its astonishing hold on the Gospel music industry. Only five years after releasing its record-breaking debut, the band has collectively amassed more than 20 Dove awards, a GRAMMY Award, an American Music Award and Platinum or Gold certifications for each of its three major releases and two live recordings.
Not too shabby for the seven members who famously maintain their individual youth ministry ties, working their now-illustrious career around the long-time rewards of their personal church responsibilities.Advertisement
With Christmas cheers still a couple months away, Casting Crowns' has amazingly found the time to record and release its first-ever Christmas collection. Even with a focus on the Christmas message versus the typical seasonal marketing ploys, Peace on Earth will no doubt be selling tens of thousands of units long before the official advent of the season.
But even with all the energy surrounding a Casting Crowns release, seasonal or otherwise, Peace on Earth lacks a certain spark that makes the music of this season so transformative. Standards such as "Silent Night," "O Come All Ye Faithful" and "Joy to the World" receive fine treatments but lack original flair and fall flat.
"God is With Us" does little to differentiate from Amy Grant's effective original. Paul Baloche's "Christmas Offering" presents a congregation-ready chorus but fails to ignite much spirit on CD. And Mark Hall's "While You Were Sleeping" issues a poorly executed derivative of its original from 2005's Lifesong.
Though diehard Casting Crowns fans (and there are a lot of them) will find plenty to sink their teeth into, Peace on Earth misses the mark when compared to the band's previous outings and the outstanding quality of other holiday releases. Casting Crowns may be at the top of its game, but this is not the band's finest hour.
---
Used with permission -