Northside Hospital's Movies in the Park™ - Canton
5:00 - 11:00 PM on Saturday, July 6

Northside Hospital's Movies in the Park™ – Canton
Enjoy a historic view while watching an outdoor movie at Movies in the Park ™ in Cherokee County. Hosted in downtown Canton at Browns Park, family movie night is surrounded by history. Sit back in your lawn chair and enjoy a movie on a big screen with a backdrop of the 1925 City Hall as well as a Memorial Arch which was dedicated in 1923. While you are enjoying your surroundings, the kids will have fun swinging on the swing set, or climbing on the jungle gym.
The Fish Fun Crew and Dr. Roof will be onsite 5 PM - 9 PM with fun activities and more!

---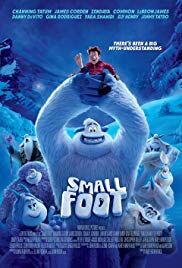 Smallfoot (PG)
A Yeti is convinced that the elusive creatures known as "humans" really do exist.
Date: Saturday, July 6th
Location: Browns Park
Time: Movie starts around 8:45-50 PM
---
Location:
Brown Park
251 E Marietta St
Canton, GA 30114
Google Map