It's Big Daddy Weave's The Kennedy Center Experience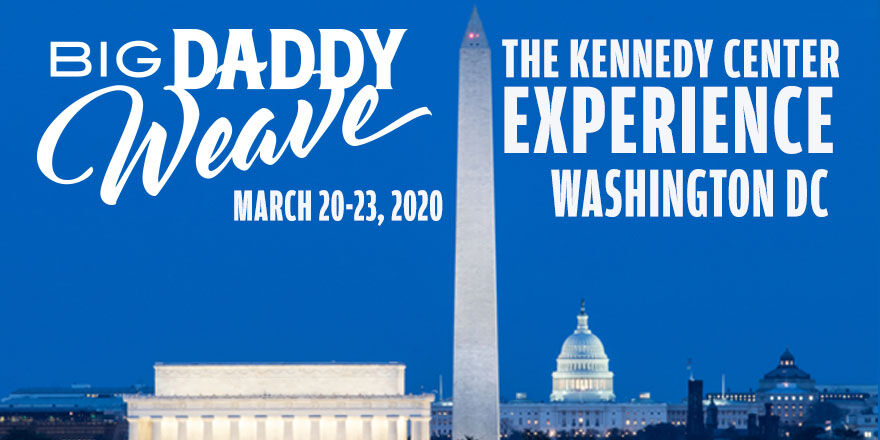 You are invited to spend 4 days
with
BIG DADDY WEAVE
in
Washington, D.C.!
MARCH 20-23, 2020
(Concert is March 22 - 7:00pm)
Get the Ultimate Fan-Experience Weekend 4-day Backstage Pass
or
Sing in our Kennedy Center Worship Choir
******************************
DO YOU SING? Join our onstage 230-voice worship choir to perform with BIG DADDY WEAVE in this concert-of-a-lifetime!
Singers and non-performers are welcome to join our entourage and share in this unique experience. Singers will enjoy a weekend of rehearsals and preparation for the concert while non-performing friends/family will enjoy an all-access pass to our behind-the-scenes experience.
This exclusive Kennedy Center Experience package includes:
4 Days and 3 Nights with BIG DADDY WEAVE & Friends in our Nation's Capital, Washington, D.C.
Staying at The JW Marriott Hotel (Just a few minutes' walk from The White House,
Washington Monument, Smithsonian Museums and much more)
Q&A with BIG DADDY WEAVE
Singers rehearse & perform on-stage with BIG DADDY WEAVE at The Kennedy Center
Photo Meet & Greet with BIG DADDY WEAVE
Non-Performing attendees receive special VIP access to all rehearsals and activities during the entire weekend
along with extra activities only for non-performers and premium best-seats for our performance at The Kennedy Center.
Post-Concert Celebration Dinner Cruise with BIG DADDY WEAVE on the Potomac River
Receive a BIG DADDY WEAVE-autographed souvenir poster of our Kennedy Center Concert.
Only 380 spots available!
(230 Maximum Choir Size, 150 Behind-The-Scenes Friends)
Don't miss the opportunity to Perform or just hang out with BIG DADDY WEAVE on one of the world's most famous stages.
Want to join the ultimate BDW fan Weekend?
Click here to get details on the Behind-The-Scenes experience.
Want to sing in the choir?
Click here to get details.
Ready to book your reservation now?
Click here.